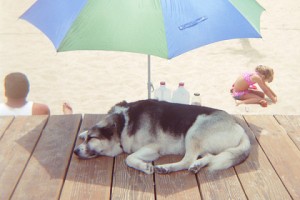 Outdoor pets may have a lot more freedom to roam than their indoor cousins, but living in the great outdoors has its risks, too. We probably didn't need the scientific studies to tell us this, but they show that pets' skin can be harmed by too much sun, just like ours can. The bad news is that sunscreens made for humans generally aren't safe to use on animals, so here are some tips to make caring for your pet's skin easier.
The first thing to do is make sure that your pets have enough shade when they're outdoors. This may mean a nice shade tree or a specially built house or enclosure just for them to use when the weather turns hot. We all need a place where we can just kick back and cool off for a while. Make sure they have plenty of fresh water available as well.
Your pets may not be able to wear sunscreens made for people, but thanks to a product called Epi-Pet Sun Protector Spray for Pets
, your pet doesn't have to suffer the hot summer sun with no protection any longer. This is the only FDA approved product of its kind and is formulated strictly for dogs and horses only – not for cats yet, so keep it away from your feline friends! The method of application is to spray on, so application is generally pretty quick and easy with minimum mess involved.
We should take advantage of these warm, summer days while they last and spend them exploring and playing in the outdoors with our pets. With a little forethought, our pets can be just as protected as we are from too much warmth from the sun!
(* Some links in this post contain affiliate links )