---
Calling all Angels!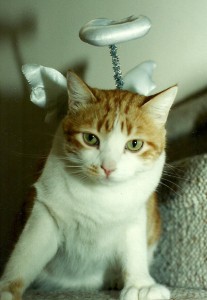 Become an Angel Sponsor!
When you sign up to be an Angel Sponsor, you help make sure we have funds available to give the animals the food, care, and medicines that they need, year-round. You select the amount that works for you and your budget.  You can choose to sponsor a specific animal and you will be listed as that animal's Angel Sponsor! You may sponsor more than one animal, and each animal can have more than one Angel Sponsor.
To set up a monthly donation:
Use your online banking system – mail to Last Chance Ranch Sanctuary, PO Box 6763, Kingman, AZ 86402 – and note Angel Sponsor in the account or memo field.

Use our Donate button below, select "recurring" when you get to the PayPal screen, and note the animal's name in the comment field.

Use our special page at Network for Good or its related sites such as Causes on Facebook, Guidestar, & Capital One Giving Site.

You can also mail in a personal check each month!
Questions or need help? Contact us.

$55 feeds 10 dogs for a week
$14 feeds 7 cats for 2 weeks
$32 feeds 7 horses for 2 days
Thank you!!