We know times are tough right now.  We feel it too.  That's why we wanted you to know that there are still ways you can help, without spending a dime!
Read through the ideas below, and pick at least one.  Heck, do them all!
---
Turn your online shopping and searching into much-needed donations!
With iGive, it's easy!
http://www.iGive.com/LastChanceRanchSanctuary
 Your every purchase helps the animals!
More tips:
Use iGive every time you shop – download the iGive button or iGive toolbar.
Purchase gift cards online through iGive, then give as gifts or use them yourself at "real" stores.
Do you purchase supplies for your office, group, church?  Do it via iGive!
Help more – send our link to your friends and family – we get $5 for each person who joins, and even more when they shop.
---
When you purchase from Amazon.com via the link or search box below, Last Chance Ranch Sanctuary receives a portion of the proceeds!
Shop Amazon to help Last Chance Ranch Sanctuary
Start here, or use Amazon Smile and select Last Chance Ranch Sanctuary – help the animals at no cost to you!
And don't forget to check out our Amazon Wish List if you'd like to buy some much-needed supplies for the animals at the Sanctuary!
---
Search and shop!  Raise money for Last Chance Ranch Sanctuary through simple, everyday actions! When you use GoodSearch.com, you'll get great search results, and each time you search we'll receive a penny.  When you use GoodShop.com, you choose from more than 2,500 popular merchants and find more than 100,000 coupons and deals, and the merchants donate a percentage of your purchase to us.

www.goodsearch.com/nonprofit/last-chance-ranch-sanctuary.aspx
The average loyal supporter can earn $50 a year!
New!  Search right here from our web site!
---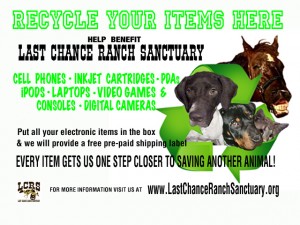 Recycle4Pets – collect electronic items, like used cell phones, PDAs, MP3s, inkjet cartridges, certain laser cartridges, iPods, laptops, video games & consoles, digital cameras, DVDs, GPS devices, calculators, eReaders/tablets/notebooks. Print out this flyer and put it on your collection boxes.  Then once your box is full (about 40 pounds) contact us for your free pre-paid shipping label(s)!
---
Too much stuff cluttering your home?  Consider hosting a garage sale to benefit us, or selling your items on craigslist or eBay and donating some or all of the proceeds.

Here's some "how-to" regarding eBay.  When you list an item on eBay, select the option to participate in eBay Giving Works. To find us, click on "Select another nonprofit you love" and enter "Last Chance Ranch Sanctuary" in the nonprofit name or keyword field. The website will conduct a search and come up with our group, we are non-profit ID 56344. Select us and enter the  percentage of the sale price you wish to donate.  Once your item sells, the donations administrator collects the funds and forwards them to us. You don't have to do anything further. eBay credits you for the listing and final value fees.   However, PayPal still deducts their fees if you have a business account. For more information, go to  http://www.ebaygivingworks.com/.
We've found that eBay is particularly good for items too nice to donate to Goodwill or Salvation Army.  It doesn't matter where you live – we can do the listings for you!  We'll need good photos, and once the item sells, we'll send you a pre-paid shipping label so you can mail it to the buyer.  Contact us and we'll get you started!
---
Adopt A Shelter shopping portal

Another way to shop and help. Just select us when you shop! Choose from tons of stores.