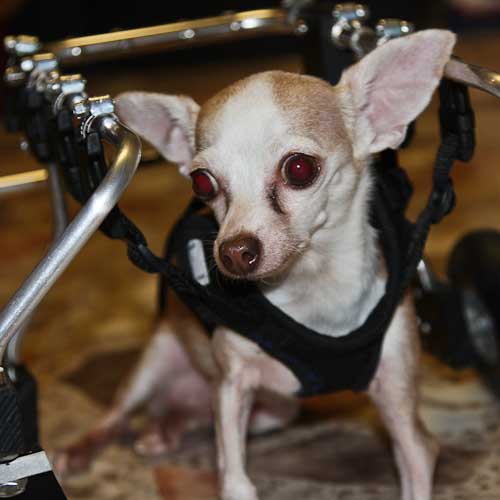 Welcome to our Donate page for the Last Chance Ranch Sanctuary in Kingman, Arizona!
We're very glad to see you!
Ginger says, "We couldn't do the work we do without the support of generous donors like you. Your donation makes a world of difference. Thank you so much!"

Rest assured, we never sell or share your information. All donations are tax-deductible, and are used for veterinary care. supplies, and food for Our Gang.
---
1. Donate by PayPal
All credit card transactions are processed by PayPal. You may use your Visa, MasterCard, American Express, or Discover card, and you do NOT have to have a PayPal account. If you do have one, you may elect to transfer funds from it, or bypass it for a credit card transaction. Just click the Continue link on the PayPal screen.
---
2. Donate by Check
The Last Chance Ranch Sanctuary
P.O. Box 6763
Kingman, AZ 86402
Click here to Print and Mail Your Donation
---
3. Become an Angel Sponsor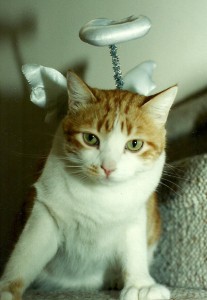 Become an Angel Sponsor!
To help even more, set up a monthly donation via your online banking system or our donation widget.  By making a monthly donation you help ensure that we have funds available to give the animals the food and care they need. You can sponsor a specific animal and you will be listed as that animal's Angel Sponsor! You may sponsor more than one animal, and each animal can have more than one Angel Sponsor.
Recurring donations require a PayPal account, or you can select other payment options like Network for Good and its related sites such as Causes on Facebook, Guidestar, & Capital One Giving Site to make donations via credit and debit cards.
---
4. Donate by App or Text
You can also donate easily from your smart phone using the PayPal app!
Just use the send screen to send to "info@lastchanceranchsanctuary.org"
or
Send money via Text Message or SMS!
Send a text to 729725 (PAYPAL).
Specify the amount and our phone number or email address.
Examples: Send 10.99 to 9282005848 or Send 5 to info@lastchanceranchsanctuary.org
As always, thank you for your continued support!
---
Supporters and potential supporters are welcome to schedule an appointment to tour the Sanctuary. For more information, please contact us, and we'll be happy to set up a mutually convenient time for you to see our facilities and meet Our Gang.
---
How to DOUBLE your donation and more:

Employee Giving and Company Matching

Be sure to check if your employer has any sort of company matching or employee giving program. For example, some employers will match your donation up to their predetermined limit, and oftentimes the gifts made by retirees and/or spouses are eligible. Some employers will contribute to a non-profit organization on your behalf once you designate the cause, or donate based on the number of hours you volunteer. Double the impact of your donations!

Arizona State Employees – you can select us for your state employee charitable campaign contributions!  Our charity number is 26095.

Usually, the employer will require verification of your donation. This form or confirmation request can be emailed to us at info@lastchanceranchsanctuary.org or mailed to us at:

Treasurer
Last Chance Ranch Sanctuary
P.O. Box 6763
Kingman, AZ 86402

Our Tax ID number is 30-0546131

Remember, we are a non-profit organization, so your donations are tax-deductible, and your employer will receive tax benefits from their contributions!

---

Sponsorship Program

Our Sponsorship Program allows individuals, families, or companies to sponsor one of our animals!  This helps us provide the care that the animals need and deserve.  We use your donation towards food, bedding, toys, habitats, medical care – anything that the animal needs to return to the best possible health.

Make a minimum one-time donation of $25.00 and you will be acknowledged on our website on that animal's page.  Each animal can have more than one sponsor and one person can sponsor more than one animal.

How to become an Animal Sponsor:

By Mail:  Print and Mail Your Donation (indicate on the form which animal you wish to sponsor)

Click here to Print and Mail Your Donation

By PayPal:  Send your donation via PayPal, and indicate in the Comments field which animal you wish to sponsor. Or use the Sponsor Me button on that animal's page.

Questions?  Contact us and we'll be happy to help.

---

Tribute Giving

Tribute Giving provides a special way to reach out to family and friends in a meaningful way while providing support for our animals. When your Tribute Gift is received, we will send a card to the person you designate, in your name. The amount of the gift is not mentioned.

Memorial gifts allow you to celebrate the memory of those special individuals in your life. It's a way to honor those who cared so deeply about animals during their lives. You can also commemorate the life of a beloved companion animal.

Honor gifts are special gifts to make in honor of a birthday, anniversary, or any special occasion. They celebrate the special people and animals in our lives.

How to Make a Tribute Gift:

By Mail:  Print and Mail Your Donation (include the relevant information on the form)

Click here to Print and Mail Your Donation

By PayPal:  Send your donation via PayPal and and use the Comments field to let us know what type of gift you are making, who you are honoring, and who to send the card to.

Questions?  Contact us and we'll be happy to help.   If you would like to set up a special commemorative tribute fund, we would be honored to assist you.  Please contact us.

---

Wish List

Horses:
Dogs:

crimped oats
equine senior
horse wormers
vet wraps

Gravy Train Dry Food
Pedigree canned food
dog wormers

Cats:
Other items:

Purina dry food
canned food

dog beds and bowls
rabbit chow
water troughs

If you have these items to donate, please contact us to arrange delivery. If you prefer to purchase these items on our behalf, please contact Stockton Hill Feed, attention Nancy Jones, 928-757-4125, and she will be happy to help you.

If you prefer to donate directly to our vet, please contact Cerbat Cliffs Animal Hospital (928) 757-8855 and indicate that your donation is on behalf of the Last Chance Ranch Sanctuary.
---
Doctors Foster and Smith Gift Cards
Perhaps you'd rather not make a cash donation.  Consider a gift card instead!
Here you can go directly to the Doctors Foster and Smith web site, and through their  "Paws for a Cause" program make a generous gift certificate donation.  Our information is pre-filled in a custom Gift Certificate order form for your convenience – all you need to do is enter your amount and check out.
---
More Gift Cards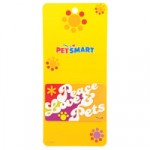 Another option is to send us a pet store gift card to help with dog food, cat food, training treats, beds, toys, and comfort items!  In fact, gift cards from any retailers that carry pet supplies would be wonderful!  Gift cards can be mailed to us at
Last Chance Ranch Sanctuary P.O. Box 6763 Kingman, AZ 86402
E gift certificates can be sent to info@LastChanceRanchSanctuary.org
If you've received unwanted gift cards as holiday or birthday gifts, and want to put them to good use, we would be happy to receive them!
---
Capital One VISA and you can help benefit our animals
We've partnered with Capital One to launch our newest fundraising program, and it will help us earn money doing what you do every day! Just use our custom credit card and valuable cash donations for every purchase you make will be donated to our organization. Plus, we'll get a $50 bonus donation when you make your first purchase. The card comes with a competitive rate so sharing your passion—and your support—is easy and automatic. Apply today!
---
Pet Portraits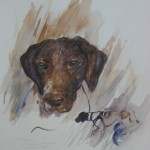 Want a beautiful one-of-a-kind rendering of your loved one? Call us today for your Pet Portrait!  What a wonderful way to remember your best friend forever. All proceeds benefit the animals at the Last Chance Ranch Sanctuary.
How it works:
You select 3 to 5 photos of your pet including one of the face and one of the entire animal.  Call the Ranch to discuss the details of your desired portrait – size, watercolor or pastel, single or overlaid image, pricing.  Send in your photos with your payment, and your portrait will be shipped to you within 4 weeks.
Click here to View our gallery for some examples
Pet Portraits also make lovely gifts.  Call us today at 928-692-3209!