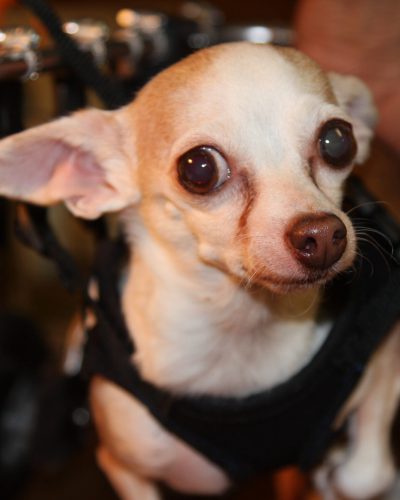 January 2012
Ginger, along with her mother Sweetie, are our newest arrivals. Their previous owner could no longer care for them as she had Alzheimer's disease and was placed in a nursing home. In fact, as the Alzheimer's disease progressed the past few years, Ginger and Sweetie didn't receive the care and attention they should have. For this reason we do not have the details of their medical history.
Ginger cannot walk and tries to scoot herself from place to place. It seems all of her legs are atrophied. We are unsure if she can gain any strength with therapy. We would like to be able to send her for a complete diagnostic work-up to see if she might benefit from surgery or other veterinary interventions. Ginger's bones in the front legs are totally locked up and nothing can be done. Her back legs have possibilities and are cautiously hopeful. Ginger has been like this for a very long time and the damage is extreme.
Since Ginger's been here, Cloe (the cat) has kept her motivated. Ginger will do just about anything to get her attention! Because of that, Ginger is starting to get some movement in her rear legs. Thanks to so many supporters, Ginger is getting a wheelchair!!!
Ginger is gaining some strength in her legs, and just loves scooting around to play with Cloe! I'm working with her to stretch out her legs so she'll have better flexibility and strength. Regardless, she's a happy camper!
February 2016
Since the loss of Sweetie, Ginger has given up. She passed away two months later.