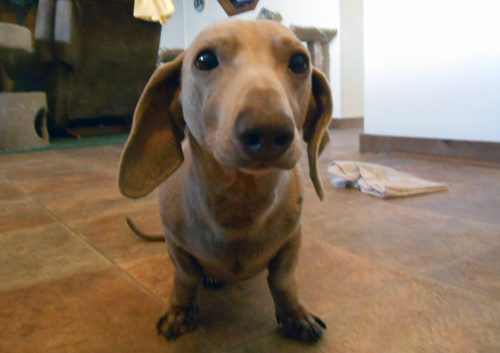 Sponsored by: Won't you sponsor me?

Flynn came to us in July, 2016
I received a call about a little Dachshund that was on the kill list in the Phoenix shelter and was to be euthanized by 5:00pm that day. Of course, I got the call at 2:00 that afternoon!
When I called the man who ran the shelter, he said the dog was unadoptable and was set to be euthanized in two and a half hours. I told him I was a rescue and wanted him. First he says the dog was paralyzed, then said he was aggressive. I ask how they obtained the dog. Well, he said he was a stray running the streets. How is that possible?
When I finally got Flynn, I found out that he was ten years old and was a breeder in a puppy mill. He was raised in a small cage, which caused severe arthritis in his spine and a pinched nerve. His nails had grown into the pads of his feet.
Flynn has urine and bowel incontinence due to a electric probe to keep him ejaculating. His testicles were so large, they were an inch off the ground and getting caught up in between his legs! So, tell me how this poor little dog was running loose on the streets!
Update:
Flynn has now found the joys of life! After being neutered, his nails cut so they are no longer growing into the pads of his feet, and taking Meloxidyl for his back and pinched nerve, Flynn now has the freedom to run, play ,and do everything this poor guy was previously denied.