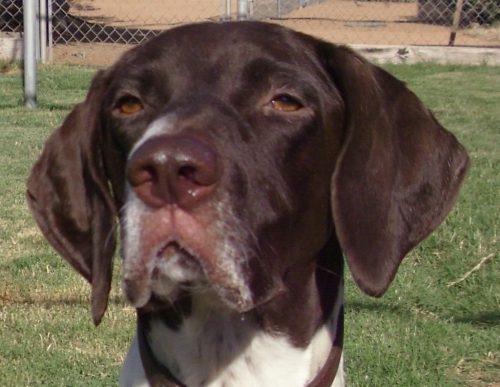 Angel Sponsors: B. Beals, R. Zander, B. Gale, M. Pogue

Hendrix came to us when he was eleven months old. He was born with Spina Bifida and was unable to use his back legs. Hendrix's previous rescue tried everything for him, including an operation too close the spine, and water and shock therapy to try to keep the muscles from atrophying. Unfortunately, their vet said he was partially paralyzed from the waist down and un-adoptable. The rescue bought Hendrix a wheelchair and took him on controlled walks. However, after keeping him in a small kennel, thinking it was for his protection, Hendrix's legs were completely atrophied, causing uncontrollable leg spasms.
After Hendrix's arrival, the first thing on the agenda was to put him in the wheelchair and let him loose! Let him get rid of all that energy and start treating him as if he was normal. Hendrix has full run of the house, plays hard with all his new brothers and sisters, and before we knew it, he started standing. The muscles in his legs started to develop, the leg spasms were less often, and with a little therapy, he even started taking small steps!
Update:
Hendrix has been with us a little over twelve years now and has endured more in a lifetime than most people. Three years ago, Hendrix had a bone biopsy to see why his bones were slowly disintegrating. The vet was supposed to take the biopsy on his weak side but instead she took it from the stronger side, simply because it would be easier for her (but not for him). Also, during that visit, they picked him up wrong and broke his sternum. Now Hendrix can no longer get up on his own, but not without the lack of trying!
As he's now getting older, arthritis is settling in his back and shoulders. He still has the drive to overcome his disabilities. Of course, knowing mom is always there to help him go wherever he wants, makes it a little easier!