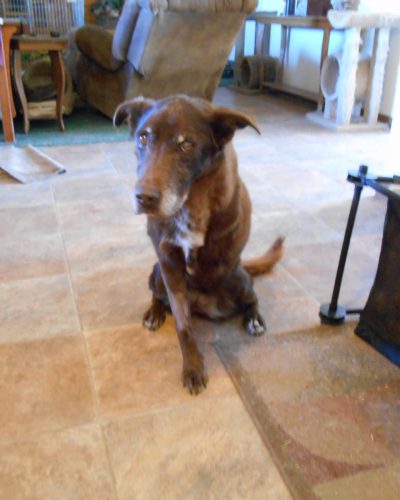 December 2013
Casey is between 15 and 16 years old. She lost her front leg due to cancer, is almost deaf, and her teeth are horrible – almost all are broken and rotten. Her previous owner called in November 2013 to see if we would consider taking her because she could no longer care for her. We said yes and tried to arrange a time to pick her up. In the meanwhile, she got out of the yard and ran off. Animal control picked her up. She was at the shelter for over two weeks. No one came for her until finally we were contacted again.
When Casey first got here it took 3 hours to get her to stop shaking. She could barely walk without falling due to muscle cramping and small masses on her legs. Because of her age, there won't be a whole lot we can do for her except give her lots of love, a soft bed, good food, medications (she really likes the muscle relaxers), lots of treats, and the enjoyment of the company of her new brother and sisters.
A month later Casey started having episodes, getting weak and falling down, then screaming at the top of her lungs. A trip to the vet revealed liver toxicity. After conferring with the vet, we agreed that her poor dental state was the most probable cause. We had her liver pumped with fluids to clean it out and stabilize her. After a full dental cleaning and some teeth removed, Kaycee seemed to be doing great. She was enjoying her time with us, more spunky and playful, and her appetite had returned.
Update:
March 20, 2014. It is with heavy hearts that we announce the passing of Casey. She was sitting next to me while I was fixing her dinner when she fell over. She died in my arms three minutes later. Like the others before her, she is gone, but will never be forgotten…