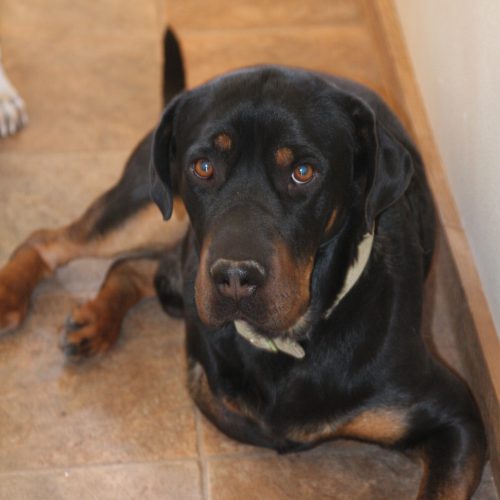 Sponsored by: Won't you sponsor me?
Cruelty to the max was what Milo went through before he got his three-legged walking papers to his new home.
Milo was a bait dog. He was only a year old when his leg was broken in five different places at five different times and his shoulder was shattered. Can you even imagine someone doing that to an animal, any animal? Surgery was attempted to save the limb, but to no avail. His leg was amputated at the shoulder.
Milo was rescued from the animal shelter a day before he was to be euthanized. An anonymous donor paid for his surgery and he found his place at the Last Chance Ranch Sanctuary for his permanent home.
Originally our biggest fear was if Milo would adjust to his new family… and … YEP!
Update:
At the age of eight, Milo saved me from getting biten by a Mohave Green rattlesnake! My foot was a couple of inches away, and by the time I saw it, the snake was already starting to lunge with it's mouth open. Milo jumped up and grabbed the snake! Unfortunately, he was bitten twice on the head. The vet thinks the snake lost most of his venom when Milo grabbed it by the neck. Milo has made a full recovery. Milo is my hero!
Update:
Milo is now thirteen. He is starting to get arthritis and last year we found a mass between his lungs. With a little Prednisone and Tramadol, Milo is hanging in there!