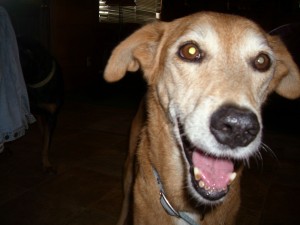 September 2011 – Dusty's Story
Dusty was slated to be euthanized at the same time her former owner was euthanizing his other dog who had cancer. Dusty is 11 years old, and she refuses to eat.  She tries to eat a little at a time, but has a hard time managing.   Dusty needs to be hand-fed just to get enough nutrition into her to keep her alive.  She's been here at the Sanctuary a couple of weeks now, and we are hoping that someday she may be able to eat on her own.
Update early 2015

Dusty has been with us for four years now. It's taken almost 1 1/2 years to get her to eat on her own. Dusty has blossomed into a social butterfly! Though arthritis is slowing her down, it  hasn't stopped her from wanting to go on her morning run, help clean the corrals with mom, and really looks forward to her naps!
August 31, 2015 – Saying goodbye to Dusty…
On Friday night, Dusty either had a stroke or a brain tumor; apparently symptoms are very close to being the same. She was fine one minute, then walking into walls and not being able to control the right side of her body the next. By Saturday morning, she looked like she was starting to bounce back, even came outside to feed and care for the horses, a job we've done together for the last four years (it was our one on one time), she never missed a day. That night she started to fail…
When Dusty first arrived here at the ranch four years ago, she was eleven years old. Her previous owner paid to have her euthanized because he didn't want to be bothered by her anymore. Thankfully, our vet Dr. Paterson talked him into letting her come here. It was hard at first for Dusty, I don't think she had a lot of human contact, she had to be hand fed for over a year and she didn't know how to play. Once Dusty came out of her shell, she blossomed into a beautiful girl! Who knew she had all that personality!
I'm so glad you were a part of my life Dusty… It's an honor and privilege to say you were mine! I'm gonna miss that smiling face, I'm gonna miss you.
Sponsor: N. Gregersen
---