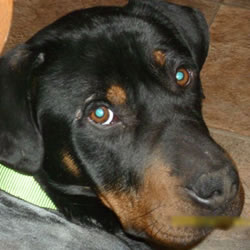 Sponsor: N. Gregersen
---
Cruelty to the max was what he went through before he got his three-legged walking papers to his new home.
Milo's leg was broken in five different places and his shoulder was shattered.  Can you even imagine someone doing that to their dog?  Surgery was tried in an attempt to save the limb, but to no avail and his leg was amputated at the shoulder.
Milo was rescued from the animal shelter a day before he was to be euthanized.  An anonymous donor paid for his surgery and he found his place at the Last Chance Ranch Sanctuary for his permanent home.
He has begun his road to physical recovery, stress-free and accepting of love.
His ordeal: