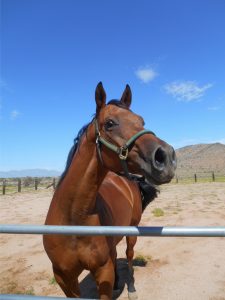 Won't you sponsor me?
Meet Monkey, our newest arrival!
Monkey is a 13 year-old gelding who was a champion in Barrel, Reining and Show until he had an accident and tore his sesamoid ligament. His previous owner was told by her vet to lay him up for a year or two to see if it would heal, but did not tell her there were other things she could do to help him along, such as MSM, Glucosamine and other anti-inflammatory supplements. After two years she turned him out in the arena and he tore it again.
Meanwhile, Monkey's previous owner had also been battling thyroid cancer about the same time Monkey hurt himself. She had been trying for two years to find him a home, but no one wants a horse they can't ride. So she had scheduled an appointment to have him euthanized. She contacted me about a month ago, at first I told her I couldn't take him, that I just lost Sienna and wasn't sure if I could keep doing this. Of course that gave me 5 days of nightmares and I could not get Monkey out of my head! I just couldn't justify him being put down in the prime of his life over what I consider a booboo!
He'll never be 100% but he will be happy!!
---