December 2013 Update:
Clovis is doing well, holding his own. He's a little shy and likes his own spot in the hallway!
Please sponsor me so I can have the periodic blood work that I'll need to monitor my Valley Fever antibodies! Thank you!
Angel Sponsor:  C. Warner
Sponsor: N. Gregersen, KC & K Heald
---
Clovis's story
Clovis arrived in March of 2011.
Clovis is a young German Shorthaired Pointer, a little over a year old, about 25 pounds underweight when he arrived.  He also has Valley Fever – it settled in his lungs and may have traveled to his brain.  He's had what look like seizures, and had difficulty eating and swallowing. If it spreads to other parts of his body, he will get worse, and if the disease has reached his bones, skin, or internal organs, he could need lifetime treatment.  Some dogs die despite treatment.  We hope that's not the case for Clovis.  He'll be monitored with periodic antibody tests.
January 2012
Clovis has been taking his medication well and consistently, and a lot of his symptoms are better. Watch some amazing footage from when Clovis first arrived in March 2011 through now, and see how he is improving! Pretty good in just nine months!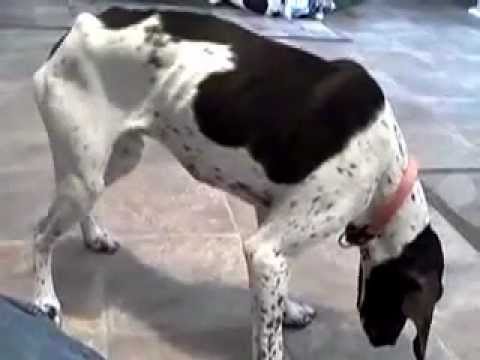 He's eating well and has not had more seizure episodes. We're hoping the worst is behind him.
May 2012
Clovis is doing pretty well, needs a blood test soon to check the antibody levels of the Valley Fever.  He's gained weight and is looking better.