It's time for the 2015 Summer Matching Funds Challenge!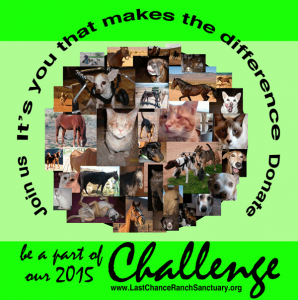 Thanks to a matching grant from a small group of donors, your donation will be matched penny for penny to up $6,000. That's right! You can help us earn $6,000! From now through Labor Day, your money will go twice as far to help the animals.
Why donate right now?
We need your help to make it through the long, hot, dry summer. Although there are typically fewer donations coming in during the summer, our disabled and special needs animals still need to eat, have their medications, get vet care. Plus with this match, you can make your money go twice as far!
Click the Challenge button to donate now.
Whether you are able to give $5 or $500, the animals thank you!
9-3-15 update: $5,717 – almost there!

Help us get the rest of the way there!
Prefer to donate by check or online banking? We'd love that! Simply send your check to Last Chance Ranch Sanctuary, PO Box 6763, Kingman, AZ 86402.
---
Latest from our Blog
---
The Last Chance Ranch Sanctuary is a home for special needs, abandoned, hurt and needy animals. Those animals that truly have nowhere else to go, that are down to their last chance.  It is also my home in northern Arizona – I have been taking animals in most of my life, and always wanted to do more.
Now, here comes my "Chance"
I bought 40 acres in 1996 and have put all my efforts into creating a place for any animal who needs special attention. Once these animals are accepted here, they stay forever to live out their lives happy and healthy!
In order for us to continue providing the proper care for these wonderful animals, we need your help.
Right now our goal is to become self-sustaining and be able to provide food, supplies, and vet care for all of Our Gang.  Later, we hope to add more shelters and habitats, hire animal care staff, and begin to expand what we can offer our residents.
---
Ongoing Schwan's Fundraiser – Over 350 delicious foods delivered right to your door.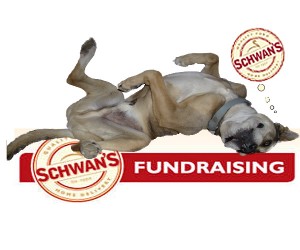 What you need to know:
Campaign ID 16703
Last Chance Ranch Sanctuary
November 10 through December 25, 2014 and beyond
Order online now – Home delivery anywhere in the continental US!
We will receive 20% back on all product sales and 40% back on eCertificates (limit one $25 eCertificate per customer per campaign) from November 10 through December 25, 2014. But it gets better – we will continue to earn 5% until November 9, 2015 as long as purchases are made through our campaign via online or call center. Stock up now, and come back again later (bookmark our link).
Two easy ways to order:
Go Online
Go to Schwans-Cares.com
Click the "Support Now" button
Shop!
By Phone
Call 1-855-870-7208
Provide Campaign ID 16703 AND
Fundraising ID 40585
You can join Team Annie and the Gang, and be sure to tell all your friends to shop too.
---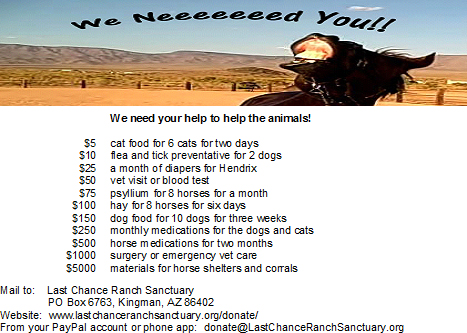 Your donation will make a world of difference!
Contributions by check or credit card are always appreciated!
In addition, here is a list of what we need:
Horses:
Dogs:

crimped oats
equine senior
horse wormers
vet wraps

Gravy Train Dry Food
Pedigree canned food
dog wormers

Cats:
Other items:

Purina dry food
canned food

dog beds and bowls
rabbit chow
water troughs
If you have these items to donate, please contact us to arrange delivery.  If you prefer to purchase these items on our behalf, please contact Tractor Supply at 3136 A Stockton Hill Road, Kingman, AZ 86401, phone:  928-753-1503 or shop from our Amazon Wish List.
If you prefer to donate directly to our vet, please contact Cerbat Cliffs Animal Hospital (928) 757-8855 and indicate that your donation is on behalf of the Last Chance Ranch Sanctuary – Annie Burson.
Thank You!
---