The Last Chance Ranch Sanctuary is a home for special needs, abandoned, hurt and needy animals. Those animals that truly have nowhere else to go, that are down to their last chance.  It is also my home in northern Arizona – I have been taking animals in most of my life, and always wanted to do more.
Now, here comes my "Chance"
I bought 40 acres in 1996 and have put all my efforts into creating a place for any animal who needs special attention. Once these animals are accepted here, they stay forever to live out their lives happy and healthy!
In order for us to continue providing the proper care for these wonderful animals, we need your help.
Right now our goal is to become self-sustaining and be able to provide food, supplies, and vet care for all of Our Gang.  Later, we hope to add more shelters and habitats, hire animal care staff, and begin to expand what we can offer our residents.
---
        Calling all Angels!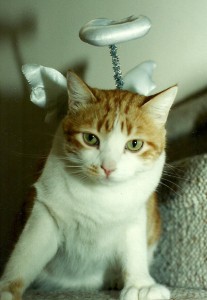 Thank you to our new Angel Sponsors! And we'd love to have YOU join us too as a monthly donor. Help the animals year round, and make it a little easier on your budget. Click here for more info.
---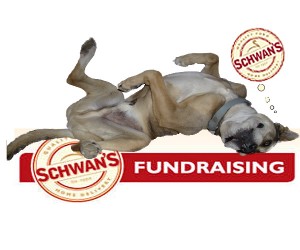 Our Schwan's Fundraiser continues year-round. Help us earn 5% with your every purchase. Read more for details and how to order.  Be sure to tell your friends too!
---
---

Pet Rescue Rx – a new way for you to save money on your pet medications AND give back to the animals at the Sanctuary! Pet Rescue Rx will donate 100% of the net proceeds of your order to us when you select LCRS – Last Chance Ranch Sanctuary in Arizona at checkout. All the name brands and generics that you know and trust.  Pet Rescue Rx will contact your vet for you, to approve and confirm your order.
Note: not yet licensed in Arizona.  Arizona residents can still order non-prescription supplies and over the counter pet medications at competitive prices.
---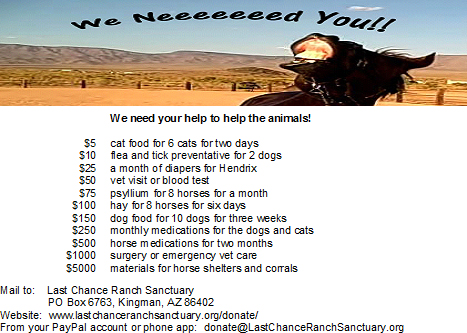 Your donation will make a world of difference!
Contributions by check or credit card are always appreciated!
In addition, here is a list of what we need:
Horses:
Dogs:

crimped oats
equine senior
horse wormers
vet wraps

Gravy Train Dry Food
Pedigree canned food
dog wormers

Cats:
Other items:

Purina dry food
canned food

dog beds and bowls
rabbit chow
water troughs
If you have these items to donate, please contact us to arrange delivery.  If you prefer to purchase these items on our behalf, please contact Stockton Hill Feed, attention Nancy Jones, 928-757-4125, and she will be happy to help you.
If you prefer to donate directly to our vet, please contact Cerbat Cliffs Animal Hospital (928) 757-8855 and indicate that your donation is on behalf of the Last Chance Ranch Sanctuary.
Thank You!
---
Pet Portraits
Want a beautiful one-of-a-kind rendering of your loved one?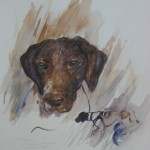 Call us today for your Pet Portrait!  What a wonderful way to remember your best friend forever. All proceeds benefit the animals at the Last Chance Ranch Sanctuary.
How it works:
You select 3 to 5 photos of your pet including one of the face and one of the entire animal.  Call the Sanctuary to discuss the details of your desired portrait – size, watercolor or pastel, single or overlaid image, pricing.  Send in your photos with your payment, and your portrait will be shipped to you within 4 weeks.
Click here to View our gallery for some examples
Pet Portraits also make lovely gifts.  Call us today at 928-692-3209!