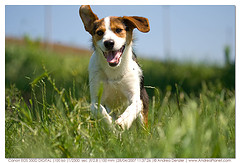 We are definitely seeing cooler weather come in, and as such, something that all of you active folks are thinking about is preparing Spot to run with you while it's cold. The basic rule of thumb here is, if it's too cold for you, it is likely too cold for your pet.
The pros that exist in having your four-legged running partner are abundant. Spot will keep you motivated and it is a great way to continue bonding, but keep the weather in mind. A breed like a Siberian Husky might be thrilled to get out and jog along in the snow, but your shorter-haired breeds might need a jacket to be comfortable.
Luckily nowadays there almost as many options for dogs as there are for humans. Jackets and booties are available in abundance, but make sure you are getting both the right fit (booties need to fit properly without being too tight or too loose) and the right product (are those booties more for rocky trails or snow?).
Just as heatstroke is a consideration during the summer, hypothermia and frostbite are things to watch out for in the winter. Also, just like you would carry water and food for yourself, make sure you carry some for your running companion. Happy tails and enjoy your next run!