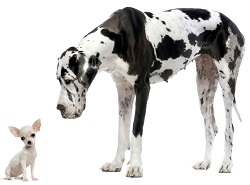 As you probably know, dogs come in all shapes and sizes. Here is some info on a few of the largest dog breeds, and a few of the smallest, according to Wikipedia and the American Kennel Club.
Among the smallest…
Chihuahuas weight in at a measly 4-6 pounds, and measure a height of less than a foot.
The Brussels Griffon breed weighs 8 – 12 pounds and measures about 10 inches at the head.
Female Chinese Crested Dogs 9 – 12 inches tall. Males are 11 – 13 inches tall. On average, these pipsqueaks weight between 5 and 12 pounds.
Italian Greyhounds are 13 to 15 inches tall and between 8 and 18 pounds.
And among the largest…
Your average Great Dane measures 28 to 34 inches tall and weights in at 100 to 200 pounds.
A Neopolitan Mastiff can be 23 to 30 inches tall and between 110 and 150 pounds.
Leonbergers are 26 to 31 inches tall and weigh at a whopping 90 to 165 pounds.
Newfoundlands measure up at between 25 and 29 inches. They can weight between 100 and 160 pounds.
Image:
https://poolhouse.s3.amazonaws.com/blog-assets-two/2015/04/big-and-small-dog.jpg