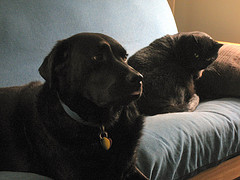 Do you love animals but can't take one in permanently? Not sure if you are ready to adopt? Or do you want to see how a new animal gets along with your brood? Fostering could be the right choice for you. Shelters everywhere are overcrowded and could use help from wonderful people like you.
Who needs a foster home?
Kittens and puppies that are too young to be adopted into permanent homes.
Special needs animals that have injuries or illnesses.
Expecting moms/moms with babies.
Adult animals that need further socialization prior to being adopted out.
Any animal at risk of being euthanized simply because the shelter is too full.
What do you provide?
Food, exercise and a loving home.
A safe place and basic training/socialization
Oftentimes you receive all the supplies necessary to take care of these animals that you have been so kind to take into your home. Does this sound like something you would like to do? Contact your local shelter, humane society or rescue group and ask about fostering opportunities.