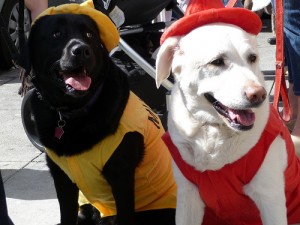 Happy October! Various sources state that the Americans will spend over 300 million of dollars on Halloween costumes this year, so obviously, this is a big event for adults, children and a lot of our furry friends.
Are you planning to take your pet out on Halloween evening? If you're investing in a costume, there are also reflective jackets and accessories available to make sure that he's visible in his bumblebee costume as you lead him down the street! Make sure that you safely have your little friend on a leash and that you have practiced basic commands with him so that he'll still listen to you with the inundation of people walking up and down the streets.
Leave collars and ID tags on, even if they don't jive with his costume. It may be instrumental in finding him should he get separated from you or your family.
Be safe out there!