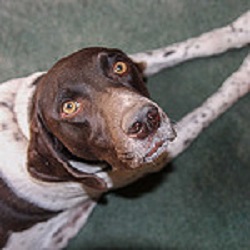 Cancer will affect one out of every four dogs in the United States. According to the Morris Animal Foundation, cancer is the number one disease-related cause of death in both dogs and cats.
Remarkably given its extensive reach, 80% of pet owners do not know enough about pet cancer symptoms. It's important to recognize early symptoms of cancer because early detection makes all the difference in treating the disease. See below for a few of the early signs of cancer in your pet:
swollen lymph nodes
an enlarging or changing lump
chronic weight loss
abdominal distension
frequent vomiting or diarrhea
straining to urinate
unusually bad breath
Please see your vet if you have any concerns. For more detail about pet cancer awareness and detection, visit the website cited below.
Source:
http://www.petcancerawareness.org/#i.q5ld1g8y1er4tu