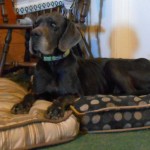 Sadly, older dogs in shelters have a very tough time finding homes. Abandoned by previous owners, they are often overlooked by potential adopters in favor of younger animals. However, there are so many reasons to open your home to an older dog! Here are just a few:
– Senior dogs are less destructive. Chances are you will be much less likely to find your new slippers chewed to smithereens, as most older dogs are well beyond that phase.
– You already know what you're getting. There are no questions about your older dog's health, history, or what they will look/be like when they are older!
– You can pick a dog that's already trained and/or socialized.
– Older dogs are relaxing to hang out with. They might not have that constant energy to burn that a puppy would have, thus making great couch companions (though, if possible, make sure your dog is getting an appropriate amount of exercise.)
Sources:
http://healthypets.mercola.com/sites/healthypets/archive/2012/02/15/benefits-of-adopting-an-older-pet.aspx