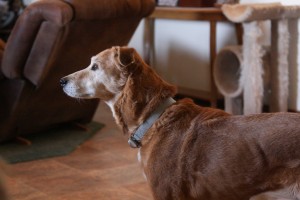 Do you have an elderly relative that you think might benefit from the unconditional love that a pet can provide? Do you have a parent that has lost their partner in life and doesn't have a meaningful outlet for his/her time anymore?
Perhaps considering a senior pet for your loved one is the solution. Why a senior pet? They tend to be the most well-behaved, are usually house-trained, and typically don't demand a huge amount of exercise. They just want love, and the quiet home of your senior relative may be the perfect match.
There are many studies that show that companion animals like cats and dogs can benefit senior health by lowering blood pressure, stress and cholesterol levels. On top of this, you will have the knowledge of knowing that you helped match your loved one with their new best friend. If this sounds like something you're interested in, check with your local shelters. There are often Senior for Senior programs available and you'll be helping to provide a great home for a grateful animal in need.