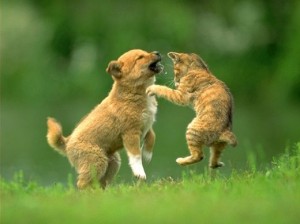 So, you've made the decision to be a pet owner, but you're still on the fence about exactly what breed of cat or dog you're willing to take on? Studies have shown that happy pets and owners often exhibit the same personality traits, giving them more in common. So if you want to get a head start on bonding with your new pet, you might want to find a breed that suits your own personality.
There are a number of theories regarding which breed is best for what kind of personality or environment, but all you really need to think about is what kind of life you lead (active vs. sedentary, indoor vs. outdoor, etc.) and then select a pet that fits. Not many Shih Tzus would be willing or able to make that morning jog with you, for example.
If you need some help deciding, try one of these quizzes for cats or for dogs. They may help you get off the fence and start building a friendship to last a lifetime!