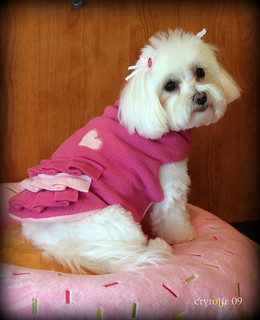 Winter means something different to everyone. Sometimes this can include freezing rain, wind, ice or the sun shining all the time. The cold can definitely make it difficult to keep up with your little guy's grooming needs.
Even if you are choosing to keep your best friend's hair longer this time of year, you should always be brushing him. The type of brush you need to use will vary upon the breed (shorter coats should use a bristle brush to remove dead hair and longer haired dogs need to be untangled and combed daily if possible), but don't neglect his or her grooming habits just because it's cold outside. If your pet's undercoat is allowed to mat your best friend's hair won't properly dry and can cause irritation. Think of it as the equivalent of walking around with wet jeans.
Many people forget that groomers are available to give baths – not just to cut hair. Don't let your dog's hygiene go just because you have a few months in cold weather. Also, if your door is an indoor dog, he may do fine with a shorter cut; a sweater is a great alternative to long hair for when you take him outside for a walk.
Beyond grooming, make sure to not leave your dog outside in cold weather for a long time. They should always have shelter and blankets around for uncarpeted floors, and when you do take your pet outside, make sure to wipe them down from all the rain and snow so they don't get cuts on their pads. For more tips on winter care for canines, visit the American Kennel Club: http://www.akc.org/public_education/winter_care.cfm