Horses, white horses in particular, have had a special role in mythologies across cultures.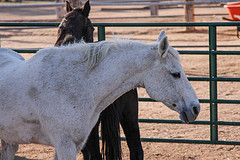 White horses have long been mythologized as having exceptional properties, such as wings (Pegasus in Greek mythology) and horns (a unicorn), allowing them to transcend the normal. A white horse generally carries the god or hero figure and triumphs over the evil forces.
In Hindu mythology, the Vedic horse sacrifice was a fertility and kingship ritual that featured the sacrifice of a white or grey stallion. There are other cultures, such as Celtic and Roman, believed to have held similar rituals. This type of ritual demonstrates the association of the white horse with fertility and leadership.
Check out the link below to learn much more!
Source:
http://en.wikipedia.org/wiki/White_horse_(mythology)