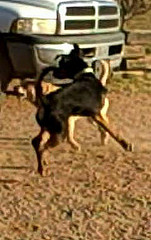 Driving onto campus Thursday, March 13 I was behind a jeep with two beautiful black labs. As I looked at the vehicles ahead of us I noticed a common theme- at least a handful of the vehicles had a dog as a passenger. I hadn't recalled seeing anything in the campus newspaper or the University's website about an on-campus dog event.
I waited anxiously during my first class to scout out these dogs. After our professor told us what to study for the final next week I power walked past the fruit stand and vendors selling everything from sunglasses to nail polish to the common area to see if I could find these dogs and their handlers.
I became quite excited when I saw at least 10 four-legged creatures with their handlers being greeted and pet by students just as excited as I.
I met the most adorable three-year-old terrier with hair golden red like mine named Cricket. Cricket was a service dog who visits Alzheimer's patients and hospitals. Immediately I understood why petite golden haired Cricket acted as a service dog. You felt calm the moment you held her and your racing thoughts ceased for that period of time.
Next I met a French Brittany named Savannah who loved all the cuddles and back pets she was getting from the students. As you knelt down beside her she leaned right into you to get more loving. Savannah was another service dog.
I was able to meet the labs who first caught my attention as I was driving into school. One of the labs was wearing sun goggles because he was becoming distracted with all the gnats hovering above the grass.
You may be wondering what my point is? Well here it is. The campus arranged for these service dogs to make an appearance the week before finals week in order to help relieve student stress. It was a job well done seeing all the smiling faces and laughter. It is incredible what an animal can do for a person's spirit. Even a short encounter such as this one can do so much for an individual. So give your four legged friend some extra cuddles or if you see a dog while you're out and about ask if you can pet him or her. It's amazing how far a little love can go.