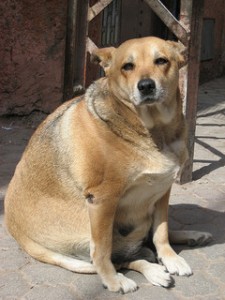 Based on various studies, over half of all dogs and cats in the US are overweight.
While this is often observed as an overeating problem with household animals, the fact is that it might just be a feeding problem from their owners.
We know that your pet is very loved, but a number of debilitating diseases can be prevented by following a few simple rules:
1) Don't feed them from the table, otherwise they will forever be obsessed about getting your food.
2) Try to stay away from pet food that have byproducts and preservatives.
3) Limit the amount of treats that you give them. Treats should be no more than 10% of your dog's intake.
An overweight animal is susceptible to high blood pressure, arthritis, diabetes and cancer which can shorten their expected lifespan. Just like you take care of yourself and your children, don't forget to take care of your household pet. They'll be happier and healthier and you will get to enjoy each other's company even longer.