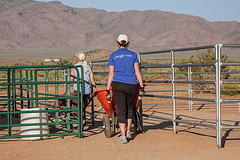 This next Monday starts be Be Kind to Animals Week. This blog post is going to discuss the many, many ways you can help your local animal shelter without having to adopt. Here are some of the ways you can help:
Volunteer Your Time
Many animal shelters are in need of extra hands to help with simple tasks such as taking the dogs out for a walk, playing with the animals and cleaning cages. If you don't have any time to physically be present at an animal shelter there are many ways you can donate your time online. Volunteermatch.org has many wonderful virtual opportunities for people to help out animal nonprofit organizations. The virtual opportunity could comprise of anything from posting cats and/or dogs that have been brought into high kill shelters on Petfinder.com to providing social media assistance.
Donating Special Skills
If photography or creating videos are two of your hobbies then your local shelter might have something to tickle your fancy. A photo and a video are two tools that could dramatically increase the chances of a shelter pet being adopted.
Donating Items
Animal shelters are always in need of water and food bowls, toys, leashes and collars, beds, grooming supplies and cleaning supplies. Shelters will also most always accept your pets' gently-used items. A neat donation for colder months are blankets and if you want to get creative I suggest donating a homemade tie fleece blanket. These blankets are so fun to make especially on days when your hands are itching to do something. Check out this website for a super easy tie fleece blanket.
You can make a difference in an animal's life by making the smallest gesture. The donation of even what you think is an insignificant amount of time can improve an animal's stay in a shelter and could up their chances of being adopted. Go ahead and see what's out there!