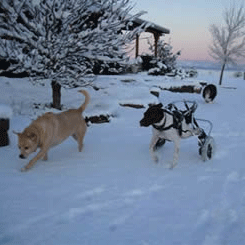 Now that we are in the middle of winter, and temperatures are below freezing in many areas, it's important to keep your pets safe and warm!
Antifreeze is lethal to cats and dogs, so wipe up any spills. Better yet, use products that contain propylene glycol instead of ethylene glycol.
Make sure your pets have a warm place to sleep, away from drafts and cold.
Keep your kitties indoors. You wouldn't want them to freeze or get injured.
Keep your dog on leash on snow or ice so he or she doesn't get lost.
If she or he loves to play outside or accompanies you on hikes or skiing, be sure to increase the amount of food you are feeding.
Wipe off paws and underbelly when your dog comes inside from the snow or ice.
If your dog needs a bath, be sure he or she is completely dry before going on a walk. Consider a coat or sweater, especially for short-haired breeds.
Never leave dogs or cats alone in the car – the car holds in the cold.
Don't worry, it'll warm up again soon!