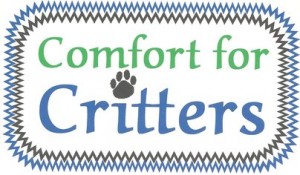 Do you have excess junk yarn, yarn you forgot why you bought it, or fabric scraps you'd like to get off your hands? Comfort For Critters would be more than happy to take it.
Comfort For Critters is a nonprofit organization that supplies homemade knit, crochet and fabric blankets to shelters and rescue groups across the United States. Those spearheading Comfort For Critters believe an animal snuggling with a homemade blanket instead of an old towel is more likely to be adopted. Why? A potential adopting family seeing a dog or cat on top of an old towel see an animal that no one wants to adopt, but give that animal a homemade blanket and the family sees a dog snuggling in their home.
Volunteers can donate homemade blankets, donate supplies or sponsor a shipment. Make sure to visit their website for free knitting and crochet patterns.