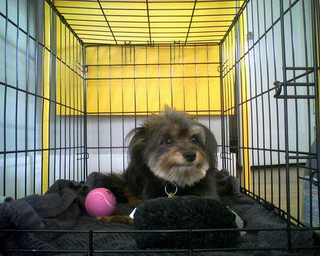 Crate training your dog has many mixed opinions, but we'd just like to mention the basics as a guideline for some best practices. Dogs are den animals, and if you have ever brought a newly adopted dog home, you may notice that they are overwhelmed by the size of your space and will likely find a nice dark corner to hide in. A crate can help temporarily minimize their access to your house while you house-train your family's new addition.
Size is one of the most important factors. The crate must be big enough for your dog to comfortably sit, stand, easily turn around and lie down on his side, but you want to avoid it being big enough for him to use the bathroom on one side and sleep in another.
With the right training, your pet can be taught to love his crate. Never use it as a form of punishment as they will grow to be afraid of the crate. Feed him his meals in the crate, give him treats in the crate and give him plenty of time to get used to it while the door is open. Also, when you do crate him, leave him in there for progressively longer periods of time so he has a chance to get used to it. If you must crate your pet at night, have the crate near your bed so he can give you an indication if he needs to go down.
That said, a crate is not meant to be a place where your dog stays for an 8 hour day while you're working and an 8 hour night of sleep. It is never meant to be a full-time living situation. Dogs are social animals that need both exercise and human interaction to have a good quality of life. Even 4-5 hours in a crate without a break is a long time, so we don't recommend crating your dog if you're gone all day. There are other options available, such as doggie day care, pet sitters and pet walkers – all of which are fabulous alternatives to a constantly crated dog. Good luck!