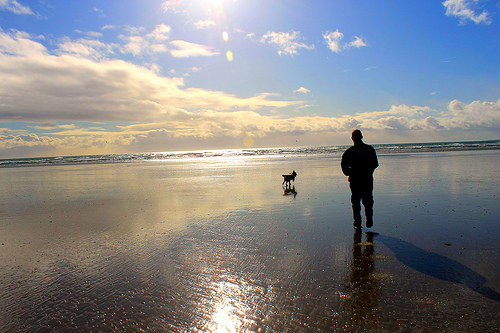 Maybe you've seen Bryant, the dog in Sweet Home Alabama, go for a calm swim in the lake, or maybe your own dog is a big fan of your pool at home. Whether or not either of these things is true, you should still take some precautions before taking Fido to the beach for the first time.
• Make sure he's allowed. Many beaches are for humans only. Either they once allowed dogs but a careless owner made the city change their mind or maybe they just don't allow them at all. Beach rules are actually laws and you can be cited or fined for not following them. Make sure you know what's happening.
• Hydrate. One of the worst things that can happen is your dog running towards the water and lapping up all that saltwater. Their bodies are not meant to process all that salt and this can make him very sick or even prove fatal. Make sure you bring lots of fresh, cool water and a bowl for him to drink out of and that you monitor him in the ocean to make sure he's not drinking it.
• Do not leave your dog unattended. Not even for a second. You are likely going to be at a beach with a lot of distractions. Other dogs, nearby cars, strong tides and stray toys can easily get your dog's attention. Make sure that he is always in your sights and that he has a firm grip on a "recall" command so you know he will come to you every time.
• Dogs can sunburn, too. Hairless dogs, dogs with pink skin, pink noses and white fur are all more susceptible to sunburn than others. Make sure that there is always a shady spot for him to go, that you have towels set up, and if necessary, that you have dog-approved (not the human variety) sunscreen to slather over him before he runs off.
• Make sure he can swim. Did you know that not all dogs can swim? That's right. If Fido has never been exposed to water of the swimming variety before, you want to test him out in calmer waters. He may begin to paddle with just his front paws, in which case lifting his hind legs will help him to get the idea. However, if he is still not a strong swimmer, you may want to invest in a doggie life vest. Many have handles so you can pull him out if needed.
• Watch for signs of heatstroke and hypothermia. A good couple hours is probably enough exposure for your dog to have a great time at the beach. However, since dogs can't always communicate their needs, you may want to make sure that you're looking for signs that they aren't OK. Panting, weakness, vomiting and diarrhea are potential signs of heatstroke, while weakness, extreme fatigue, difficulty breathing and stiffness can be signs of hypothermia. Don't let them overdo it. If it's too hot, if the water is too cold or if you've been there too long, call it a day and you can always come back later in the summer.
• Pick up after your dog. Don't be the reason that they close that beach to dogs, too. Make sure you bring doggie bags and that you let your neighboring beachgoers know if your dog made a mess nearby.
• Rinse him off. Chemicals from the water, salt, potential fleas, lice and sand can all cause pain for your dog. Make sure he gets a good rinse when you are leaving with fresh water and that he gets a bath when you get home.
As a bonus to you, your dog will likely be sound asleep by the time you get home. Enjoy your day out, and hopefully your beach experience will not just be a good experience the first time – but every time you go.