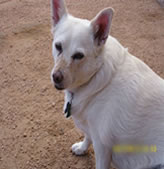 The snow is starting to melt off of your favorite hiking trails, and you're getting anxious to get out there after being cooped up all winter. We're sure that Fido feels the same, and he'd probably love to join you. But just like every thoughtful hiker would bring along the essentials for him/herself, you should think of your dog's needs as well.
If you're going to be fitting your dog with a pack (yes, they make backpacks for dogs), let them try it out a few weeks before the actual trip to allow them time to get used to the feel. Most advice says that you shouldn't give them more than about a third of their body weight to carry, which is usually fine. They can carry their own water, food, bowl, spade and plastic baggies, doggie bandages and the like. Make sure that you also put them on a sturdy and short (less than 6 feet) leash when the time comes. You need to have total control of your dog when on the trails with other hikers.
Here are some other essentials to bring along:
Doggie medical kit – You don't really need to buy one specially made for dogs; their needs are pretty simple. Gather up some hydrogen peroxide for cuts and scrapes, some bandages (including something to use as a bootie, maybe an old sock), and tweezers for pulling splinters and the like.
Dog coat – If it's going to be cold, you might consider bringing along a coat or a light vest for your dog. There are many varieties to be had, so pick one that goes with your dog's eyes and be prepared.
Carabiners – You can use these with your dog's leash to go hands free while on the trail. Just attach the leash to the carabiner and then clip the carabiner to your belt or pack. Pretty useful little tools.
Be sure to read up on trail etiquette before you set off on your trip. You most likely won't be the only one trying to get rid of that cabin fever, so it's good to be prepared around others and their dogs.