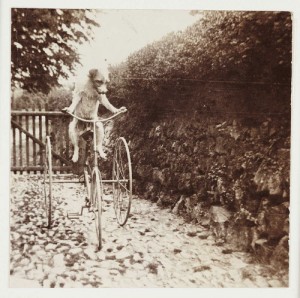 The weather is finally turning warm again and those of us with the biking bug, be it bicycles or motorcycles, are starting to hit the road. We all know that the time is right to dust off those bikes to see the sights and get some exercise at the same time. What you might not know is that it's entirely possible to bring your pet along with you.
Several manufacturers make pet carriers that are designed to fit on bicycles or motorcycles, and they allow your buddy to take in the view just like you via a small cutout for their head to poke through. Too bad no one has come up with a way they can help with the pedaling 🙂 Here are some examples. They're a bit more expensive than your typical pet carrier; some come with attachments you have to secure to your bike.
As with most activities that are new or foreign to your pet, a period of acclimatization is highly recommended before throwing them headfirst into a new environment. Carry them around the house in their new bike carrier to see how they react, and then put them on the bike and gradually increase the distance you travel.