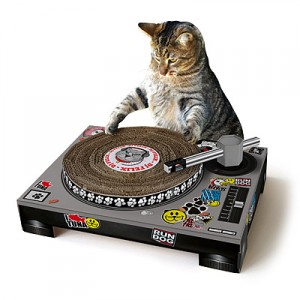 Sometime you just gotta splurge and let go. It doesn't need to be Christmas time or someone's birthday to give a gift, so if you've got a pet or a friend who loves pets, spice up their day with a gift that's a little out of the ordinary – it'll make them smile.
Cats love two things above all else: hiding in boxes and scratching the heck outta your stuff. So why not give them an outlet for their vices that will make you chuckle at the same time. Try an Airplane Cat House that will give little Felix hours of fun with what is essentially a cardboard box shaped like an airplane. Get the camera ready when you unveil this one – there's sure to be some moments worth keeping around.
As for scratching, let them scratch records like the DJs do. The DJ Cat Scratching Pad will make you laugh every time they use it, and best of all, they won't need to scratch up the sofa anymore.
But the dogs need something to keep themselves occupied, too! How about a Humunga Tongue that will make your dog the life of the party? Again, be sure to have the camera handy before you use this one.
And to keep all of those precious pet photos safe through the years, here's a fetching pet-inspired photo album to house all of those memories. Perfect for the dedicated pet lovers among us.