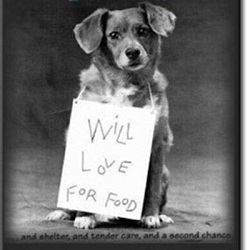 Homeless animals have not always been protected in the United States. Like most societal institutions, animal adoption and shelters have a history. Here are some highlights:
American Society for the Prevention of Cruelty to Animals was founded in 1866. It was the first animal welfare organization in the U.S. and focused initially on mistreatment of horses. Several other humane societies were founded in other cities but were not affiliated with one another.
At first, dog licenses were issued to raise money for these organizations, which were meant to protect private property and provide public safety rather than protect animals.
The Pennsylvania SPCA became the first to focus on the treatment of shelter animals in 1874.
Prior to the 1970s, most shelters were largely focused on humane euthanasia of animals that were not adopted or reclaimed.
In the late 1970s, veterinary input led to increased preventative care and treatment programs.
Today, there is still no federal system to regulate shelters, and therefore some of the guidelines for animal care may be undeveloped at best.
To learn more, check out the links below!

Sources:
https://www.petfinder.com/pro/for-shelters/companion-animal-populations/
http://veterinarymedicine.dvm360.com/animal-sheltering-united-states-yesterday-today-and-tomorrow