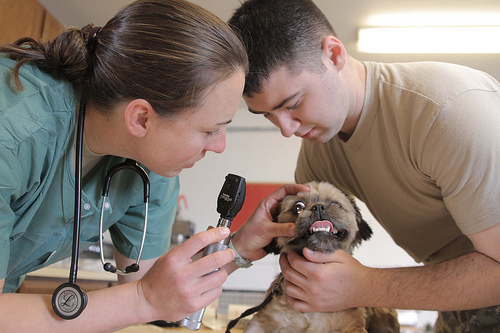 The worst time to look for a vet is when you really need one. Most of the concerns fly out the window at that point, and you may end up with one that won't provide the best care for your beloved pet. Long before you get to that point, you should take your time and do the research to find someone you and your pet will love.
1. Ask around. Your friends and neighbors likely have a favorite vet that they go to, and in casual conversation they can tell you where they are, what their fees might be and what reasons they have for going to that vet. When you find one you like, schedule some preventative care appointments. You should not always be waiting for something really wrong to be going on for you to take your pet in. If something preventable exists, catching it early is a best case scenario.
2. Reputation. Look on Yelp.com or other review type sites and see what other people are saying about that vet. What are the positives that they talk about? What about the negatives? Something that might not be important to you might really matter to someone else and vice-versa. It pays to do your research, and then you'll have information about pricing, hours and services available before you really need them.
3. Check out the place you like. Make an appointment. See how your interaction is with the doctor. See how your dog likes her. Observe how the staff interacts with each other. Are they communicative and friendly? Are they meeting your needs? Is the place clean?
4. Proactive. A good veterinarian will try to go above and beyond for your pet to make sure that Fido is healthy. It is a great sign when they are checking for "just in case" scenarios (provided it's not just to boost your bill).
5. Organization. After you go the first time, life can get in the way. Do they send out reminders for you to visit or maybe a coupon from time to time? A good vet will also call to follow up after major services to discuss care.
If you check out the above things and the vet has the proper credentials, choose the one that fits the best with your budget and the one you feel good about. When a situation comes up where you really need your vet, you'll be prepared instead of panicked and Fido will get the help he really needs.