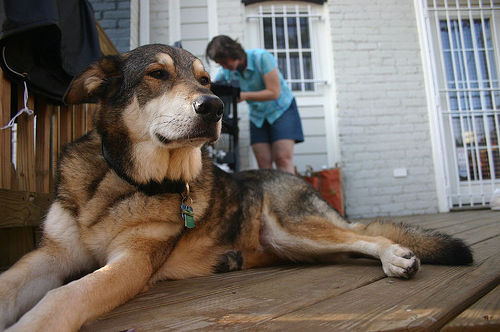 As with all holidays, it's important to ensure the safety of your four-legged best friend.
It might be the first day of September, but in most parts of the country it is still quite hot, and as you apply sunscreen on yourself today, you might want to also apply pet-friendly sunscreen and bug repellent to Fido, too, if he will be participating in your outdoor festivities with the family. He can get sunburned, too!
He can also get dehydrated and overheat, so make sure to look for the usual symptoms like excessive panting, anxiety, a change in gum color to red or purple, vomiting or glazing over. Keep him hydrated, and if signs of overheating appear, soak him with cool towels, place him in front of a fan and contact your veterinarian.
While celebrating and relaxing today, your dog will likely be distracted with other things happening in the yard. Make sure that potential escape routes are blocked off and that he has a safe environment to play in. Just in case, make sure that he is wearing his collar and ID and hopefully has an updated microchip so that he can be more easily located if need be.
Your family and friends may be tempted to feed your dog off the table while they're over, so make sure that they know what is and isn't acceptable. Your dog may have allergies, be on a restricted diet and or have another health issue that would make more foods than usual dangerous for him and even the most well-behaved dog will take food temptations if offered to him which can cause things from vomiting to death. Be careful.
This should be a day of relaxation and fun for you and for the entire family. We hope our tips help keep your pet safe.