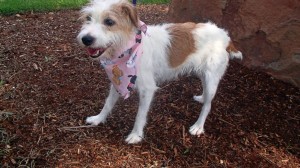 A Jack Russel terrier that went missing from her Pennsylvania home and wound up in Oregon is on its way back home to its owner.
Gidget went missing April 22, 2014 and traveled almost 3,000 miles to the suburbs of Tualatin. A good samaritan spotted the 7-year-old Jack Russel and took her to the Bonnie L. Hays Animal Shelter. It is still unknown how Gidget wound up in Portland, only the assumption is made that a human somehow transported her across the country. Gidget's microchip is how she was reconnected with her owner.
Although Gidget's owner did not have the funds to bring Gidget home, that did not stop people from offering their support. Many people have offered funds toward the trip home including a woman from Vancouver, Washington and a former East Coast governor who wished to remain anonymous.
In this fairy tale end it was PetLink, the company that manufactured Gidget's microchip, that has paid for her return flight. Deborah Wood, manager of Animal Services for Washington County, said this is another reminder of the importance of microchipping.