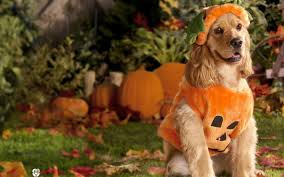 It's never too early to plan your pet's Halloween costume. Here are some of the most popular choices:
Pumpkin- What dog wouldn't look adorable in a pumpkin outfit? Check out the many variations of a pumpkin dog suit.
Witch- A good witch of course.
Princess- Maybe Princess Leia from Star Wars?
Angel- Perhaps an Angel Cupid?
Pirate- Perhaps one of the cutest dog costumes. You must Google this one.
Hot Dog- Maybe for a Dachshund?
Bat- This one seems super easy. Here's another tutorial.
Black Cat- For a dog of course, unless you already have a black cat.
Clown- For those who don't have a common fear of clowns, this might be a great idea!
Spider Dog- Try this DIY Spider Dog costume.