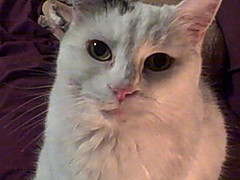 Volunteer opportunities with animals abound, and spending helping animals is great for both the humans and animals involved. Here are some tips if you'd like to start volunteering in your community.
For kids:
Veterinarian's offices, shelters, and rescue groups often could use young volunteers to help care for the animals. Most zoos also rely on volunteers to take care of the animals and facilities, talk to visitors, etc. However, a very sensitive kid might want to consider a more remote volunteer gig, such as fundraising, as working with animals that have been in tougher situations (abused, ill, etc.) can be difficult and sad, as well.
It's good for kids to take initiative and let organizations know how they could help out. However, if the organization doesn't have available opportunities or the child is too young, respect those boundaries as well.
In-person volunteering:
You can volunteer with animals at your local shelter, animal hospital, or rescue group. Petfinder.com is a great resource to find homeless pets near you; then, give the shelter a call or drop by. Introduce yourself, tell them your age and your skills, and ask if they need any help. Remember to make sure that the shelter is a good fit for your capabilities, interests, and emotions. Many organizations rely on volunteers and it is disruptive to back out of a volunteering commitment because you didn't do your research.
Remote volunteering:
If you can't make it to the shelter, there are plenty of ways to get involved from your own home. Many shelters and groups need help managing their social media sites, such as updating the Facebook page, raising awareness, and gaining publicity. Additionally, fundraising is always a good option if you'd like to get involved but can't physically go to a local shelter.
So, do some research and get involved! You won't regret it.
Sources:
https://www.dosomething.org/actnow/actionguide/volunteer
http://pbskids.org/itsmylife/emotions/volunteering/article5.html