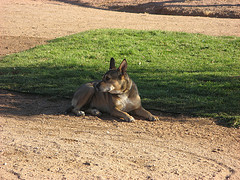 National Dog Day is an annual holiday celebrated on August 26th to celebrate dogs and promote adoption. Colleen Paige, pet lifestyle expert and author, founded this day in 2004. Here's some ways you can help on this day and year round:
Adopt a dog from a local animal shelter. That is, if you and your family are ready for a family addition.
Volunteer at a local animal shelter.
Donate needed items to local animal shelters.
Treat your dog to a walk or a new toy.
Teach your dog a new trick.
Take your dog on a car ride.
Help out an elderly neighbor by offering to walk their dog.
National Dog Day was founded on the premise that all dogs should have the opportunity to live a happy, abuse-free life. Join others nationwide August 26th and year round in celebration of dogs that work in law enforcement, military, people with special needs and any dog that is our faithful companion.