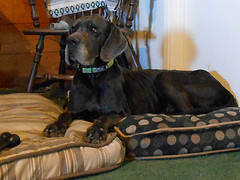 Natural remedies and items are usually great, but there are some natural "remedies" for dogs that may not be as beneficial as one might think. Here are several of them:
Garlic- The use of garlic may actually increase the risk of hemolytic anemia, or the obliteration of red blood cells.
Aloe vera- This extract from a succulent plant is usually great for things such as sun burns or rashes, but if a dog ingests aloe vera they may experience vomiting, loss of appetite and diarrhea.
Chamomille- This anxiety reducing substance is not recommended for dogs who will be going into surgery soon or dogs who have trouble with their blood clotting adequately.
Lavender oil- This oil may be beneficial if properly diluted to treat a dog's cuts or scrapes, but if ingested it could also lead to vomiting, loss of appetite and diarrhea.
If your dog is experiencing an upset stomach or vomiting try feeding him steamed white rice or plain yogurt as a treat. Some have used lavender oil on their dog's coat to eliminate fleas, but try some spring cleaning instead. A clean home is more likely to ward off fleas. Let us know of any other remedies you have used or of any other harmful remedies you're aware of!