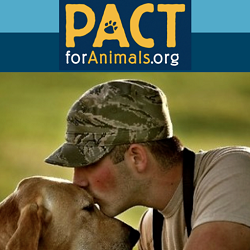 What happens to pets when their owners go off to serve in the military or required a prolonged hospital stay? In the absence of willing and able family members or friends to take care of your furry friends, foster programs such as PACT for Animals is a great foster program that might be able to help.
Military Foster Program: Military service men and women who are deployed and have no one to care for their pets are often required to surrender them to a shelter and never see them again. At a shelter, pets are either relocated or, more often, euthanized. As an alternative, the military foster program matches pets and their owners with a loving home that will care for the pet for the duration of deployment. PACT remains in close contact with the foster home.
Hospital Foster Program: For pet owners that are unexpectedly hospitalized for a month or more, finding someone to take care of a pet can be tricky. PACT matches pets with a loving home. The foster owners provide regular updates to the hospitalized owner to keep them up-to-date on their pet's well-being.
Given the emotional and physical health benefits of pet ownership, it makes sense to, if possible, avoid severing relationships between soldiers or those suffering from long-term illness and their pets.
To get involved with PACT by fostering animals, visit the link below.