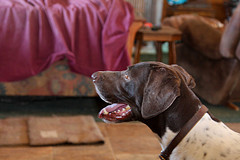 Today marks the first day of February's National Pet Dental Health Month. Cats and dogs are vulnerable to gum disease and that's why it's important to incorporate dental care into your pet's life.
Here are some benefits associated with pet dental care:
Wards off bad breath
Fewer oral infections
Helps prevent heart, liver and kidney diseases that are related to dental disease
Pet dental care can be as simple as brushing their teeth several times a week with a pet tooth brush or a wet wash cloth. Your animal will enjoy the same feeling fresh sensation we have after our pearly whites are brushed.
Read more about pet dental health in this great article by our vet.