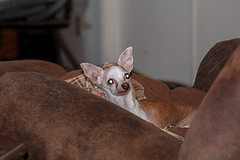 It is a tad disheartening to admit that the last weekend of summer is creeping up upon us. As much as we'd like to ignore the coming of Fall I'm sure a good number of us are planning something to celebrate Labor Day Weekend. If you are, here are some tips for a pet-friendly Labor Day Weekend:
Table scraps- Labor Day Weekend usually means being surrounded by friends and a grill. Table scraps eaten by a dog who strictly eats dog food can be harmful. Make sure your pet does not get any hand outs.
Pet sitters- Some people get pet sitters for a long weekend and it's very important to make sure that pet sitter or boarding facility is trustworthy. There have been many instances where a pet sitter has lost a dog on their watch or of a boarding facility having the pet escape the yard.
Hydration- Keep your pet hydrated by toting along a portable water dish.
Water safety- If you plan on having your dog accompany you on any water craft it is suggested the pet wear a life vest in case he gets unexpectedly dunked.
Have fun this Labor Day Weekend and use these tips to make sure your dog is having an enjoyable time as well!