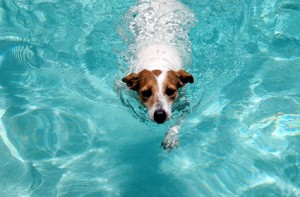 With all the Summer heat we're contending with now, it certainly is tempting to pack up and head for the lake or the pool. If you're bringing the family dog with you, they'll no doubt appreciate it too, but keep a few tips in mind about safety while your dog enjoys the water.
Most dogs are at least competent swimmers, and some breeds (like spaniels and retrievers) are natural born swimmers. But this doesn't mean that they don't need to go slowly if they've never been in the water before. And even experienced swimmers can still get into trouble.
Supervision is a must. Treat your dogs around water like you'd treat your kids and you're on the right track. On a boat, canoe, etc. it's a good idea to zip your pooch up in a life vest made especially for pets. If you'd put your kids in one, then you should seriously consider putting your treasured pet in one, too.
Swimming is tough work. That's why so many people use it as a form of exercise – it works pretty much every muscle in the body. As such, it can be a very tiring activity. Be sure that you have adequate fresh water on hand for your dog after they've had enough of the waves. You should also spray them off with clean, fresh water after they're done with the swimming. This will not only help to cool them off, but also get rid of any lingering bacteria they may have picked up in the lake. Most dogs really like this part, too!
With a little care and supervision, your excursions into the water can be a blast for both you and your dog. Have fun!