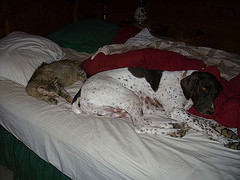 How does one go about selecting a pet sitter? People choose to hire pet sitters for many reasons. Whether you're away for business, an emergency or vacation here are some tips that could make your selection a bit easier.
Here's what to look for in a pet sitter:
Does your potential sitter possess commercial liability insurance?
Has your potential sitter received any training?
Are they associated with a veterinarian who can provide emergency services?
Do they provide related services such as dog walking, dog training and in-home training?
Will they provide references?
How to help your sitter:
Make sure your sitter knows where all your pets necessities are.
Leave clear instructions.
Buy extra supplies for those just in case moments.
Make sure your pet is wearing current identification tags.
That list can appear rather daunting, but the National Association of Professional Pet Sitters (800-296-PETS) or Pet Sitters International (800-268-SITS) can provide referrals.