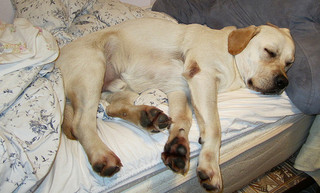 More than 50% of dog owners consider their pets family, so it then makes sense that more than half of that amount sleep with their pets every night. Before making a decision regarding whether they should sleep with you or not, there are a few things you might want to keep in mind:
• A loud, unruly pet in your bed may disrupt your sleep, causing you to perform at less than your best throughout your daily life.
• It is not generally recommended for allergy/asthma sufferers to have their pet in the bed or to even have them in the room. A HEPA filter is highly recommended to have in this case to keep the room free of pet hair and dander.
• Parasites and bacteria can be transferred from your pet to you through licking or poor pet hygiene.
However, it's not all bad. Some of the benefits that keep many pet owners sleeping with their four-legged loved one include the following:
• Sleeping with your dog has been shown to potentially lower stress and anxiety for the pet owner.
• You can consider it a compliment. Dogs will only sleep with other dogs and humans that they trust.
• It can give nervous dogs more confidence.