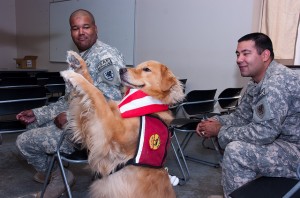 During this holiday season, we just wanted to touch on the topic of therapy dogs. Do you feel that your dog brings joy to everyone she meets? Do you already do some volunteer work in hospitals or with our awesome armed forces? Petting dogs is proven to reduce anxiety, lower blood pressure and produce good hormones. Therapy dogs are wonderful for patients in hospitals, children with learning disabilities and injured veterans as well – encouraging them to learn and improve and live actively. Maybe looking into getting your pup certified as a therapy dog is something that would be good for both of you.
The great thing is that any dog of any breed can be a good candidate to be a therapy dog, but she must pass both behavioral and health checks regularly. The following are a few traits that therapy dogs must have:
• Friendliness
• Patience
• Calmness when strangers touch her
• Enjoys human contact
• Not be afraid of someone perhaps walking unsteadily
• Well-behaved
• Calm around other dogs
The following a site to start with if this is something you are interested in: http://www.tdi-dog.org/HowtoJoin.aspx?Page=Testing+Requirements
Happy holidays!