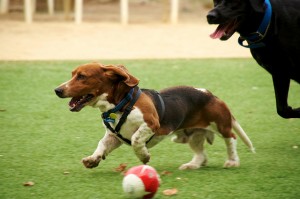 As a loving pet owner, we know that you make great efforts to exercise your four-legged friend. Maybe you two go running, hiking, wading in the water or just out for regular walks. All of these things are welcome activities to Rover.

Depending on where you live, you might even have access to a dog park – which can be an excellent place to go to exercise your pet. Just like every place else, however, these places have their good points and bad.

Pros:
Excellent socialization ability between dogs and other dogs and dogs and other humans.
Off-leash exercise for your pet. Open spaces like a park provide your pup with the ability to roam, run and jump freely without having to worry about his leash or limited space. He can play to his heart's content.
It's a great way to tire out your four-legged friend so he can sleep well (and not be destructive) at home.
This is also a great way for YOU to get some exercise and meet like-minded community members that share your love of animals.

Cons:
Unfortunately, you can't control the other pet owners that go there, and aggressive dogs may be present
Sometimes dog parks are not fenced off and can then be a hazard for you and your pet.
Illnesses can be spread from dog to dog and it increases the opportunity for disease between the animals.

Different dog parks can present different advantages and disadvantages, so just make sure to exercise caution when going and check on things like whether or not larger/smaller dogs have their own areas or not. If you deem it safe, exercise caution and you and Rover have the potential to have a fabulous time!